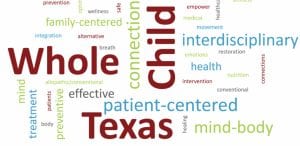 We are honored to introduce you all to Dr. Alina Olteanu, the founder of Whole Child Texas, a pediatric integrative, holistic, and functional medicine practice; as well as natural treatments for Autism, ADD, ADHD, Anxiety and Depression, Asthma, Allergies, Eczema, Constipation, Headaches, and other chronic childhood conditions.in Frisco, Texas.
Whole Child provides a revolutionary approach to health care and is based on the principles of Integrative Medicine. It is a complete paradigm shift that provides a new roadmap to optimal health, based on simple yet profoundly transformative lifestyle changes. 
 Whole Child Pediatrics is not just focused on treating disease and symptoms; they treat the whole child by addressing all aspects of a child's health — mind, body, emotions, spirit, family, and parenting.  They empower families to make sustainable changes, encouraging them to create the future they deserve. Integrative medicine is healing-oriented medicine that takes in account the whole person (body, mind, and spirit), including all aspects of lifestyle. It emphasizes the therapeutic relationship and makes use of all appropriate therapies, both conventional and alternative.
Dr Alina recognizes that the current medical system is imperfect and it often fails patients by its focus on disease management, rather than health promotion and disease prevention. She knows that the epidemic of childhood chronic diseases is preventable and even reversible, mainly through a better diet, a more balanced lifestyle, and reducing stress and harmful environmental exposures. At the same time, she respects the amazing advances of traditional medicine, including vaccines, and she recommends antibiotics and other pharmaceutical treatments when necessary.
She practices what many people call integrative medicine, but she prefers to call it just being a good, caring doctor. As an innovator in the health care revolution, she is passionate about transforming the current medical system that over-diagnosis and over-medicates children, into a model of care that integrates the belief in the innate healing capacities of the body and nature.
Dr Alina Olteanu is here to provide you a trustworthy perspective on pediatric health that is rare to find anywhere else.
Contact Whole Child Texas today to set up your appointment ~ Phone: (214) 736-1954 ~ E-mail: [email protected]