Alright momma's if you're looking for the most charming downtown area with food, shopping, treats and all the feel goods – look no further than downtown Celina.
It's easy to spend hours in the Celina Square.
One of the first things you'll notice once you park your car and get out – shhhh, hear that? – country music playing across the speakers throughout the square. That is straight up charm ya'll!
Now, for the best places to go in the square?
Well, if you're hungry or a BBQ lover, the award winning Tender Smokehouse is right in the midst of the square. It's both family friendly AND catering friendly. We've ordered to-go BBQ for family/friend get togethers countless times and it's always a crowd pleaser. And, if you have out oft owners visiting, they'll be very impressed with this authentic and delicious menu.
There's also the Toasted Walnut, which is new to the square – and such a wonderful addition. We actually had our first Frisco Area Moms meeting here – ah, nostalgia. There's free wifi, the CUTEST decor, some light shopping in the entry complete with bible verse cards, jewelry, kitchen goods and sweet little gifts. We both had the avocado chicken salad and highly recommend!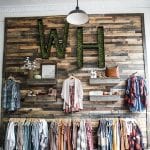 The boutique game in the Celina square is STRONG! First up, Willow House (who has several locations, including Celina and McKinney) – is to die for! They have beautiful, fashionable clothes, trendy shoes, jewelry plus a few things for the guys and a little corner reserved with perfect gifts for babies and kids. Absolutely love this boutique!
And then there's Annie Jack! This place will give you the warm and fuzzies right when you walk in. They have beautiful home decor – in fact, everything on my entry table in my house came from Annie Jack – trendy clothing, candles, jewelry … AND, it's also a cafe! They serve amazing coffees and lattes, grab and go breakfast items, baked goods like pies and muffins and more … just, so good! We also love we often see the actual owner of Annie Jack in the store when we stop by, who's also a neighbor – we love small town living!
Okay, last but definitely not least – Hey Sugar! This place is a to die for vintage inspired candy store that does not disappoint!! If you're looking for fun, original or rare candy … if you need to bribe or reward your children … or if you just need some nostalgia – stop in Hey Sugar!
There are many more amazing places to visit in the quickly growing Celina Square – these are just a few of our favorites. Be sure to check it out and of course, let us know your favorites as well.
XO – M&M