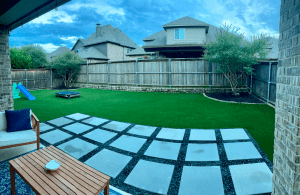 We hope you followed along with my (Megan) turf journey a few weeks ago. When we purchased our home over three years ago, we wanted to refresh or upgrade our backyard. Our original plan was to extend a covered patio, but as time went on, we got more and more tired of mowing and dealing with our grass. We had consistent ant piles, constant mud (even when not raining) and my husband and one of our dogs have insane allergies to the grass. We thought Turf might be the most important for us when considering all the costs associated with backyard refreshes and decided to call Pave-N-Turf for a quote.
We had a wonderful experience with our Sales Representative, Orren and received a quote that day. They also gave the option for financing, which is super helpful! Once we got on the schedule, the whole process took 3 days. We were amazed by what they were able to complete in that time frame, and had a wonderful experience from start to finish with Noe and his team. We decided to go with some pavers and rocks to do an extension of our patio, and we love the look! This upgrade has changed our backyard life, we are all obsessed and in our backyard daily now (even with the heat of Summer). One of the biggest bonuses being no mud after the rain, hallelujah! With two dogs, it makes such a huge difference.
When you contract with Pave-N-Turf, you are getting the professionalism & expertise of 20+ years in the outdoor & landscaping industry, with specialist focus on synthetic grasses for 6+ years. Their owner & founder is an American Army Airborne Veteran who holds strongly to the qualities of dependability, integrity and attention to detail that were learned during his service to his country.
Pave-N-Turf is family owned & operated, with collective experience in the landscape production, sales, subcontractor management & crew leadership positions.Their long term relationships with industry partners & competitors has allowed them to be able to bring the best service and project quality to their clients.
Pave-N-Turf is proud to stand on their reputation, experience, and their commitment to client satisfaction. Their specialists are fully licensed and insured for their safety and your peace of mind. By using a licensed turf contractor, you are assured that the contractor has adequate knowledge and experience to do your job right. Pave-N-Turf is covered by the necessary insurance to protect you, your home or your business. Without a license, you become personally liable for what happens on your property.
They proudly stand behind their labor and the products they use. All materials come with a written warranty upon completion of the project. All projects come with a 24 month labor warranty, they will repair areas resulting from any defective workmanship.You also get the reassurance of the Manufacturer's Limited 15 Year Warranty, which covers ultra violet degradation and excessive fading and any manufacturing defects for limited time.
Pave-N-Turf offers a variety of synthetic grass products and application options, with blade length, color options and drainage capabilities. Every project is completely customizable to each clients needs and unique construction site variables such as terrain, soil type, and surrounding accesses. From high end commercial spaces such as office courtyards, multi-family public areas, or hotel event spaces to residential upgrades with pet / play areas, golf putting greens or pool surrounds we have the right solution for your vision.
We highly recommend Pave-N-Turf, contact them TODAY!
Check out our GLOW UP – Before and After