Meet, Pamela Culley, the wonderful mom behind Modishly Balloons. A local balloon design business, creating beautifully unique and fun designs for any and all your events!
Tell us a little bit about you!
My name is Pamela Culley and I am a local Frisco mom. My family and I moved to Frisco 3.5 years ago and we love it here so much. My husband and I have been married for 17.5 years and we have 2 kiddos and 2 cats.
How many kids do you have and what are their ages? 
God blessed us with 2 beautiful boys, ages 12 and 15.
What's your favorite thing about being a mom?
I think my favorite part about being a mom is how it has taught me that I know absolutely nothing about anything. No matter how much of an expert I think that I might be at something, being a mom will find a way to bring me back down to earth and give me a reality check. It keeps life in perspective. I am forever grateful to my boys for the lessons they have taught me along this crazy journey called life.
How did you end up in Frisco area? 
We moved to Frisco from Seattle, WA seeking a better future for our children and a lot more sunshine. What the state of Texas had to offer, aligned more with our values and goals, so we decided to pack up and go on a big adventure and we never looked back.
What do you love about Frisco area?
I love how much there is to do in such a small radius. So many date nights that are all so very different each time. There is never an "I'm bored" moment that cannot be easily remedied. I love how clean and well maintained this city is. I love how conveniently located Frisco is in proximity to so many other locations as well. I love how friendly both neighbors and strangers are to one another. Frisco cannot be beat. No other city can even compare.
What's your favorite restaurant in Frisco area?
Theodore is on the top of my list for fun dining date nights out. It is just so unique and the hidden Speakeasy inside of J. Theodore is so much fun too! Unique cocktails, yummy eats, great staff, and such a cool environment!
What's your favorite place to shop in Frisco area?
I love the Frisco Mercantile! So many unique, fun items. And when they have their girls night events with live music while you shop, that sets it apart!
What's your favorite thing to do when you need some "me time"?
I love driving over to the lake for "me time"! I either go to the beach in Little Elm or I go over to Rockin S Bar and grill at Hidden Cove Park. The water is so soothing to be near and the surrounding nature is beautiful.
Tell us about your career.
I recently opened Modishly Balloons which provides balloons for events in Frisco and the surrounding area. We can design balloon décor for anything from a small 1st birthday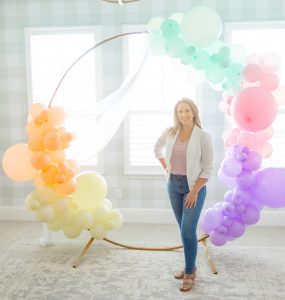 party, to a large wedding reception.
What do you love about your career?
I love getting to come up with designs and then watch them come to life. It is so much fun to come up with ideas of what something will look like, and then get to watch it all unfold as we start creating it. I love that my family can get involved with helping as well.  Even my boys get to have hands on experience and learn all the ins and outs of what a family business is all about.
What is one thing you look forward to every year?
I look forward to Summertime hands down! We have so many adventures every summer when the kids are home from school. And I LOVE the Texas heat. Getting outside and playing during Summer is my favorite part of the year.
How do you juggle your career with being a mom and wife?
My husband has really been amazing! He loves that I am doing something that I love. Early on in our marriage I dabbled in wedding planning. It was A LOT! I did have fun with it, but there were so many moving parts that I never was able to focus on what I was truly good at. I love interior design and décor. Balloons are something that I could really focus on and be creative with. My husband saw me find my niche and has really been supportive. He encourages me, motivates me, and helps me so much with the kids and around the house when I need to focus on the business. He even does the grocery shopping. Plus he works full time with a career of his own. And my boys have been so helpful as well. I think they are proud of their old mom for going after a dream.
What's the best piece of advice you've gotten from another mom?
`To not sweat the small stuff. That things might seem huge in the moment, but most issues are pretty small things in the grand scheme of life. To take a step back, re-assess, ask how this will affect life in 10 years, and breathe.
What's one fun fact about you?
I am a huge outdoor lover! If it can be done outside, I will likely enjoy it. And I will likely take 1000 photos of it all while I am doing it. I have so many photos of random things outside. My kids think I am crazy. Even tonight, as I was walking to my car, I had to snap a picture of the moon. Anything beautiful outside, ends up in my phone.
Contact Pamela today for your next event! 
Photography Credit: Amy Snow Photography
Do you know of a momma we should feature one our site? Let us know.