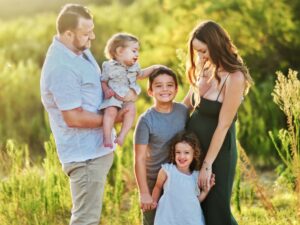 Calling all North Dallas (& BEYOND) moms! Are you in need of a reliable babysitter? Look no further because I have an amazing resource for you. Allow me to introduce Danielle Kollander, our local Community Coordinator mom, who is here to answer your questions and offer her favorite sitters as suggestions for parents just starting with Bambino.
As a seasoned mama of 3, she knows firsthand the constant need for a trustworthy babysitter. Finding reliable sitters can be quite the challenge, whether it's a work event, a much-needed date night, a doctor's appointment, or any situation where you find yourself in a pinch for childcare. That's why Danielle signed up to bring Bambino to her community! The app is incredibly easy to navigate, saving you valuable time when you're in need of a SAFE + RELIABLE babysitter.
We've all seen those Facebook posts in neighborhood groups where someone desperately asks for a babysitter, only to be met with silence. Finding someone trustworthy, reliable, and who will love your children just like you can feel overwhelming. That's why the Bambino App is so incredibly convenient. Let me share a few reasons why we are hooked on it:
1. SUPER EASY: Creating a profile on the app is a breeze. You can quickly share details like the number of children you have, their names and ages, and where you live. It's like putting yourself out there on a dating website, hoping to attract the perfect potential babysitters!
2. REVIEWS: The app provides "Top Rated Sitters" and reviews from friends and neighbors who have used certain sitters. Seeing that a friend you trust has had an excellent experience with a particular babysitter is wonderful.
3. CLOSING RATE: With Bambino, I almost always secure a babysitter. The app allows you to request multiple potential sitters, increasing your chances of finding someone available. I start by reaching out to my top five favorite sitters, and if they happen to be unavailable, I can explore other profiles to find a good match for my family.
4. BABYSITTER DETAILS: Transparency is key, and the Bambino App delivers. These are local sitters recommended by your friends and neighbors. Every sitter on the app undergoes a thorough vetting and verification process to ensure safety. You can see details such as their age, proximity to your home, hourly rate, years of experience, and whether they are CPR certified.
5. PAYMENT: Say goodbye to the hassle of handling cash or checks. With Bambino, everything goes through the app. Even if you come home late and your tired mom brain struggles to function, paying your babysitter is as easy as tapping a button. All payment information is securely stored.
So, North Dallas Moms, with just a tap on the Bambino app, you can easily find, book, and pay your neighborhood sitter. It's a legitimate lifesaver! And if you're like me and prefer to keep your sitter stash on the down-low, now you know that you can discreetly check out the community tab and borrow your friend's favorite sitter without causing any upset. Trust me, Bambino is a game-changer for all of us busy moms!!
BONUS: Danielle has a $5 off discount code! When you download the app, use KOLLANDER in the promo code area and a $5 credit will go towards your first booking!
Have questions?? Reach out to Danielle directly on Instagram: @daniellekollander !