We are honored to introduce you to Frisco Kid's Dentistry, a premier, innovative pediatric dental practice committed to providing the highest level of customer service, from an inspired team, in a fun, educational and family-oriented environment.
Every visit we have had at Frisco Kids has been a pleasant experience. As you momma's know, going to the Dentist can sometimes be a dreaded activity with kiddos, and we are so grateful to have somewhere we look forward to visiting.
Frisco Kid's Dentistry is committed to providing quality care and customer service in a fun, educational environment. They strive to build positive relationships with their patients while helping them achieve a healthy smile. They believe a key ingredient in children maintaining good health is parental involvement! So their goal is to educate both parents and patients to create life-long, positive dental habits.
Why choose a Pediatric Dentist?
All dentists are doctors of oral health. The difference between a pediatric dentist and general dentist are explained by their education, years of training and type of training related to child development. A pediatric dentist has two to three years of specialty training following dental school and limits his/her practice to treating children only.
Nurturing temperament: Pediatric dentists choose to work with children. They enjoy it! Working with children every day, all day, allows them to keenly understand how to make kids feel comfortable and how to explain procedures and oral care in a way that they can understand.
Staff are trained specifically on management techniques geared toward infants, children, and teenagers
Pediatric hospital affiliations: Pediatric dentists are more likely to be affiliated with pediatricians, children's hospitals, and other specialists who can work as a team in managing yourchild's overall health, should the need arise.
Specialized pediatric equipment: Smaller equipment is needed for children due to the size of their mouths and the fragile nature of their primary teeth.
Training for special needs children: Pediatric dentists are trained to treat children who are disabled, chronically ill, or mentally challenged. Some conditions require specialized dental care which a pediatric dentist is experienced at giving. Because of this experience, they can also be helpful in treating adults with mental or physical disabilities.
Exceptional knowledge of childhood dental developmental stages: They have extensive knowledge on how children's teeth and jaws should develop. They can provide comprehensive, definitive treatment on all aspects of childhood dental disease, as well as recognize orthodontic concerns. They are highly familiar with the rapid growth and developmental changes associated with adolescent oral care, that is dental care for teenagers.
Kid-friendly environment: Pediatric dental offices are specially designed with children in mind, from the furniture décor to the flavors of toothpaste offered. When children experience a pleasant, comfortable, child-centered environment during a dental visit, trust is established and confidence is promoted. Oftentimes, they even look forward to visiting the dentist! Take a virtual tour of Frisco Kid's Dentistry!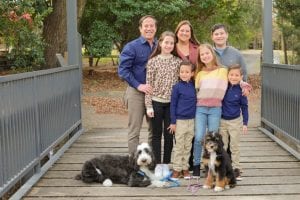 Meet Dr. Rubin
Dr. Paul I. Rubin, a board certified pediatric dentist, completed his pediatric dentistry residency and internship at Texas A&M University – Baylor College of Dentistry, and received his D.D.S from University of Texas Health Science Center in San Antonio. He entered the practice of pediatric dentistry with a combined interest in both health care and children, and has worked for many years with kids through camps and community activities. Dr. Rubin also has extensive experience in working with children who require special needs through his residency training at Baylor's Dental Clinics, Children's Medical Center and at Texas Scottish Rite Hospital for Children. In fact, the education of a pediatric dentist focuses on care for children with special needs, and the offices are designed to be physically accessible for all patients.
"I intend to run my practice and treat my patients in a manner in which I want my own kids to be treated," Dr. Rubin states.
Dr. Rubin has placed a tremendous focus in his practice on Preventive/Proactive Dentistry, which encompasses working with parents and increasing their "Dental IQ." Dr. Ru
bin wants to increase awareness and help educate parents in anticipatory guidance of pediatric dental care in areas such as oral development, fluoride adequacy, oral hygiene and health, oral habits, nutrition, diet, and injury prevention.
Meet Dr. Sentelle
David Sentelle, DMD, PhD, MPH is a Board Certified Pediatric Dentist who loves his job. He completed his Pediatric Dental residency and internship at Texas A&M Baylor College of Dentistry in Dallas, Texas. Dr. Sentelle completed his dental school training at the Medical University of South Carolina in Charleston. He also earned a PhD in Biochemistry and his research on oral cancer tumor suppression was published in Nature
Chemical Biology. Prior to dental school and PhD training, he received a Masters Degree in Public Health from Drexel University in Philadelphia, Pennsylvania.
Dr. Sentelle wants to make going to the dentist a great experience for you and your child. Through his pediatric training, he has worked with children from all backgrounds with complex medical needs. He knows every child is unique and requires tailored care. He will collaborate with your child's pediatrician and medical team to optimize their development and oral health.
Drs. Rubin and Sentelle are two of the few accredited laser dentistry surgeons that perform the advanced laser procedure tongue tie and/or lip tie release quickly, safely and effectively for the Frisco, North Texas, and DFW metropolitan areas. To learn more visit: Tongue Tie and Lip Tie (Frenectomy)
Also, good to know is that Frisco Kid's Dentistry are continuing COVID-19 Office Policies and Procedures until further notice (linked here). They are taking extra precautionary measures to help minimize possible contact with other patients, while still providing each patient with the best possible care, and keeping their entire team safe.
We highly recommend visiting Frisco Kid's Dentistry and making them your kid's dentist! As an added BONUS, all new patients receive a FREE 6 Month Membership to Brush4Brush, which is a bamboo tooth brush company that donates one toothbrush for a child in need for every toothbrush purchased!
Call 214-618-5200 TODAY to book your appointment and Mention 'Frisco Area Moms' and receive 10% off your first visit!